There has been a lot of talk about the COVID vaccine recently as one of the vaccines has moved into a Phase 3 trial, which is the last stage before a vaccine is given to the general public.
President Trump has been hinting that the vaccine will be approved before the election, hoping that the rapid development of the vaccine will boost his election chances. The press has reported that Trump has "cranked up pressure on administration health officials to expedite work both on a coronavirus vaccine" and is using this to cast doubt on the efficacy or safety of any vaccine.
In response Vice Presidential nominee Kamala Harris has claimed that Trump is interfering, suppressing, and sidelining health experts and scientists and that she does not trust Trump as "a credible source of information".
I hate everything about this. I hate the use of a vaccine as a political football, I hate the press's amplifying doubt and fear, I hate the implication that public health officials are political actors. Everything about this is gross and embarrassing and we deserve better politicians and better sources of news and information.
In today's newsletter, I want to turn all the rhetoric off and talk about the vaccine being tested, how safe it is, if it is being rushed forward dangerously, if you should get it and when. And I'm going to assume that we're all anxious and worried and frustrated and that we all want what is best for everyone. Let's assume we understand each other's fears and we would never use those fears as an opportunity to be unkind to one another.
The Birth of a Vaccine

Operation Warp Speed

What Does This Mean

Disney Short: Society Dog Show
The Birth of a Vaccine
I first want to talk about if we are rushing through the vaccine approval process. The answer to that is unambiguously "yes". Operation Warp Speed is an initiative designed specifically to get a vaccine as quickly as possible. But this is being done with a lot of though and care.
First, let's talk about the typical vaccine pipeline. Phase 1 of a vaccine trial involves 20-100 healthy adults who are given the vaccine in a variety of dosages. The goal is to find the ideal dosage that produces the fewest side effects while delivering the best antibody response. Volunteers are monitored for antibodies and serious side effects.
Phase 2 involves hundreds of volunteers and is aimed primarily at making sure the vaccine is safe. In this phase, we watch carefully for how the body responds to the vaccine. Is there irritation at the injection spot? Fever? Muscle aches? Serious safety problems can halt the vaccine here, but if it is safe it moves to Phase 3.
Phase 3 is big and is concerned with efficacy. It usually involves thousands of people and is a placebo-controlled study where we monitor people who have gotten the vaccine against people who have not and see if the vaccine is not only safe but also effective. We don't want to subject people to an injection unless that vaccine actually moves the needs on immunity and that is what phase 3 is all about.
If a vaccine gets through phase 3, it is both safe and effective and it's time to start manufacturing the vaccine on a large scale. Once we have enough vaccine to distribute, we move to phase 4, which is general availability. We continue to monitor the vaccine for serious side-effects and safety issues, but it will be available to the public.
Operation Warp Speed
The stated goal of Operation Warp Speed is to "produce and deliver 300 million doses of safe and effective vaccines with the initial doses available by January 2021". They are doing this with two strategies. The first is they are running the phases in parallel. This means that, if a vaccine looks promising, they are starting phase 1 and, if no problems present quickly, they start phase 2. By the time phase 1 is done, they're well into phase 2 and, if the vaccine looks safe from the preliminary data, they can move to a phase 2/3 where they are still testing safety but also starting to run the placebo study.
The second strategy is to manufacture millions of doses of vaccines that have not yet passed their clinical trials, understanding that we may simply be burning money if the vaccine proves either unsafe or ineffective. Normally, we wouldn't do this, but in the case of COVID, we have determined that the potential benefit is worth the risk of trashing millions of doses of a vaccine that didn't hit safety and efficacy standards.
At the moment, several vaccines are in Phase 3 clinical trials. The first is Moderna's mRNA-1273, which went into Phase 1 on March 16 (what?!?) and started Phase 3 on July 27th. The second is AstraZeneca's AZD1222 vaccine, which began Phase 3 in August 31st. Both of these Phase 3 trials are running with 30,000 volunteers, which is an enormous number (typical phase 3 trials run 3,000-10,000 volunteers).
The AstraZeneca vaccine is likely the one that Trump prefers, likely because the trial is being conducted internationally, with monitored trials being run in the UK, Brazil, South Africa, and the US. But both vaccines are in manufacturing in the hope that they will prove effective and we will quickly have millions of doses available to protect people as soon as we can verify their efficacy.
What Does This Mean?
I'm shifting a little bit into opinion here and keep in mind that I'm not a virologist or a vaccinologist and I just want to help people get information and make good decisions. Let me speak for myself first.
There is something called the COVID-19 Prevention Network (CoVPN) and it is a program to drum up enough volunteers so that we can run these trials. I have signed up. I will absolutely go to get the vaccine (or the placebo) if I'm approved for the study. And I will talk about it here because I have zero personal filter.
If you are healthy and brave, I encourage you to do so as well. The risks of volunteering are, in my opinion, extremely low. We already know a lot of the side effects of the vaccines being administered and they are real but minor. Fatigue, headaches, and elevated temperature are pretty common, so be prepared. If you are working, you may want to see if you are able to take a little bit of time off. If you develop a more severe side effects of the vaccine, you may feel under the weather for a day or two.
If you are uncomfortable with participating in a study, if you're worried about the side effects being too severe, or if you genuinely believe that these studies are being politically influenced, then I would not recommend that you volunteer for the vaccine.
I want to respect the decisions that everyone makes. The people who do volunteer are doing so because they want to help everyone get out of that crisis and that is awesome. The people who don't want to take a trial vaccine are not scared or bad or anti-vaccination. They have their own concerns, their own anxieties, their own lives. Maybe they can't afford to be waylaid by side effects for 2 days. That's a totally reasonable concern.
Lastly and importantly, there is no evidence at all that a vaccine will be approved due to political considerations. Dr Anthony Fauci and Dr Francis Collins are overseeing these programs and both are heroes of public health who hold fast to the importance of safety and scientific rigor. Moncef Slaoui is a legendary molecular biologist who has been involved in developing vaccines for cervical cancer, Ebola, and malaria. He is leading Operation Warp Speed and has said he will resign if he feels there is interference from the White House. Additionally the trials are being monitored by independent infectious disease experts from multiple medical universities.
It is not possible for Donald Trump to bypass the safeguards that have been set in place to deliver a safe and effective COVID vaccine. I hate that I have to say this, but it is true. It's possible (even likely) that Trump may say things that we feel are premature, but no vaccine will be administered until a host of thoughtful, careful, rigorous public health professionals have signed off on the vaccine.
If you believe otherwise, I understand completely. If this is the case for you, my recommendation is that you avoid getting the vaccine until you think it is safe. Every month that passes gives us more information. Typically, a Phase 3 trial will last a full year. If you're looking for the gold standard of efficacy and safety, you may want to wait that long. If, after a few months and positive results, you decide you don't want to wait that full year, that's a fine decision too.
These are uncertain times and we are all swimming in a sea of partial information, trying to make sense of what we have to do the best for ourselves, our loved ones, and our communities. We should all do the best we can and strain constantly to make sure we're fully informed and incorporating new information that helps us make better decisions.
Disney Shorts: Society Dog Show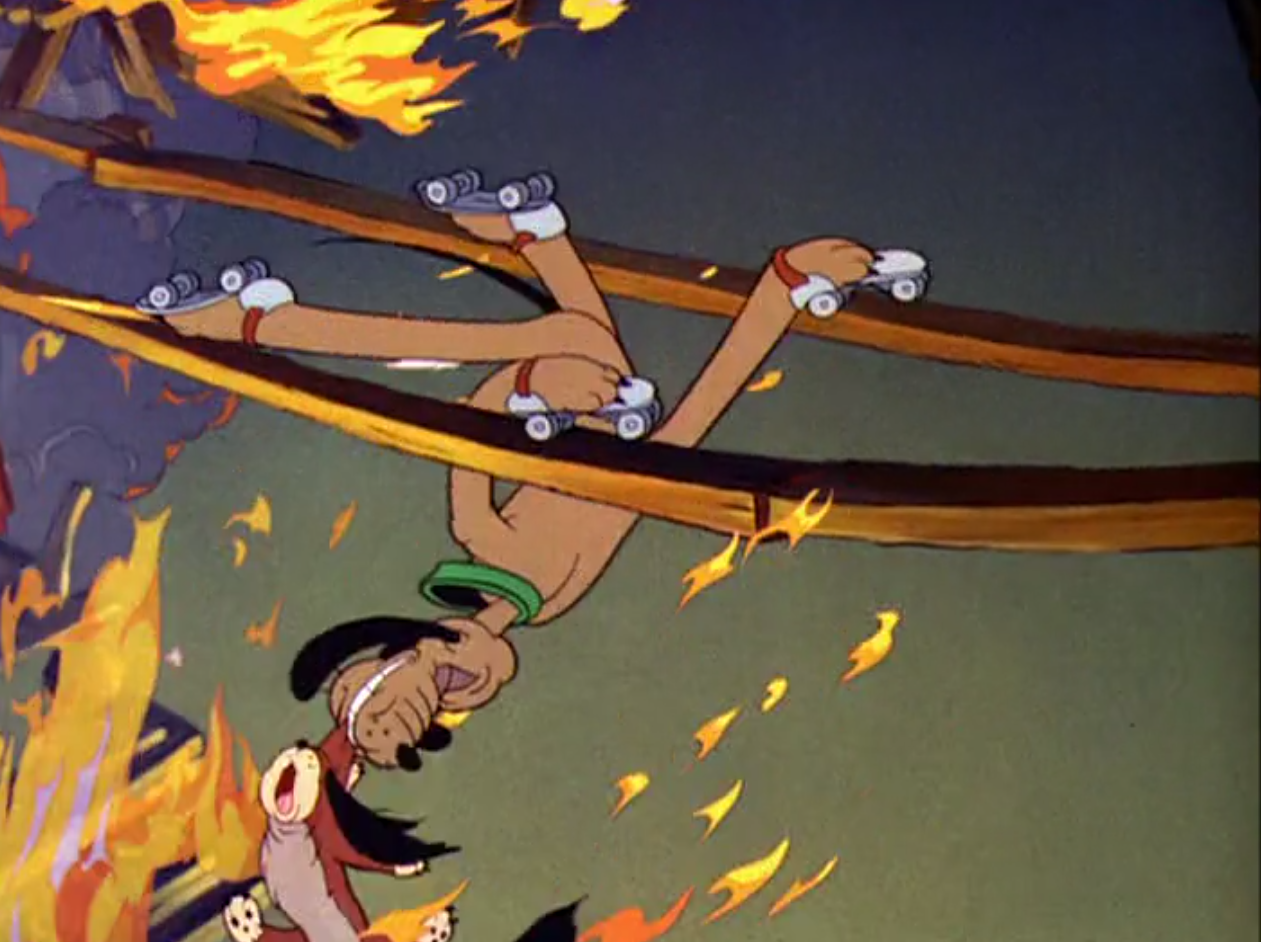 Mickey takes Pluto to a high society dog show where the two of them yokel it up. There is something I adore about Disney's high-culture/low-culture commentary (which is all the more poignant when you realize that Walt Disney himself performed Mickey's voice for this one). Disney was always anxious that animation was considered low art. He had enormous affection for working class values and passions but also wanted to deliver high-art to the masses. You can see through his career this bristling against the pretensions of the upper class while trying to bring high art to "the masses".
Anyway, there are some half-hearted gags with the uppity well cultured and groomed dogs, but when Pluto acts like a normal dog in front to the judge, Mickey and Pluto are ejected.
The piece concludes with the exhibition hall catching on fire and Pluto becomes a hero, saving one a trapped lady dog. This sequence shows some real visual innovation and energy as we get a kinetic rescue through the blazing building. It's exciting, compelling, an excellent example of the kind of kineticism that we can only see in a cartoon.